---
ANNOUNCEMENT ON THE COVID-19 PANDEMIC
Update: June 29, 2020
Ontario has begun the Stage 2 of the re-opening of the Province
The Province of Ontario has announced that that it will allow a gradual re-opening of the province on a region-by-region basis as progress is made in the fight against COVID-19.  Halton Region was allowed to move into the Stage 2 opening on June 19, 2020.  The Province has introduced new rules including a requirement to maintain physical distancing of 2m and limit public event gatherings to a maximum of 10 people.  With these rules, the CSMMI is unable to hold a monthly show.     The City of Burlington has not yet announced the opening of the Seniors Centre for public events.  The CSMMI is continuing to monitor the situation and will advise on the September show when The City and Province allows it.
The health and well-being of our community remains our top priority and we advise everyone to follow the recommendations and requirements of Public Health Organizations, the Government of Canada, and the Province of Ontario.  Please practice hand washing, and comply with social distancing and self-isolation requirements.
For more information see:
Government of Canada: Canada.ca/coronavirus.       en français     Canada.ca/maladie-coronavirus
Province of Ontario:  Ontario/coronavirus
City of Burlington: burlington.ca/en/your-city/corona-virus.asp
We thank everyone for their assistance as we all work through this challenge.
---
---
Welcome to the CSMMI Website
The Canadian Society of Military Medals & Insignia is an organization open to all interested in pursuing the hobby of studying, collecting and trading military medals, badges and insignia.  In these pages, you will find information on up-coming events, shows and links to research sites, including past CSMMI Journals.
Notice:  Grant McKillop Display Cases
Posted June 29, 2020 - The CSMMI has been informed that Grant McKillop will no longer be selling display cases at any future shows.   Grant is planning on making a delivery to the Hamilton, Ontario area should that be convenient for pick up.  You are required to pre-order directly with Grant.  Details below.
Grant McKillop Display Cases
Call to pre-order - 519-681-3588
Pick-up Date - Sunday, July 19, 2020
Time – 10:00 AM to 12:00 Noon
Location - Ancaster (Ontario) Fairgrounds (East Entrance)
630 Trinity Rd S, Jerseyville, ON L0R 1R0
---
See notice above of cancellations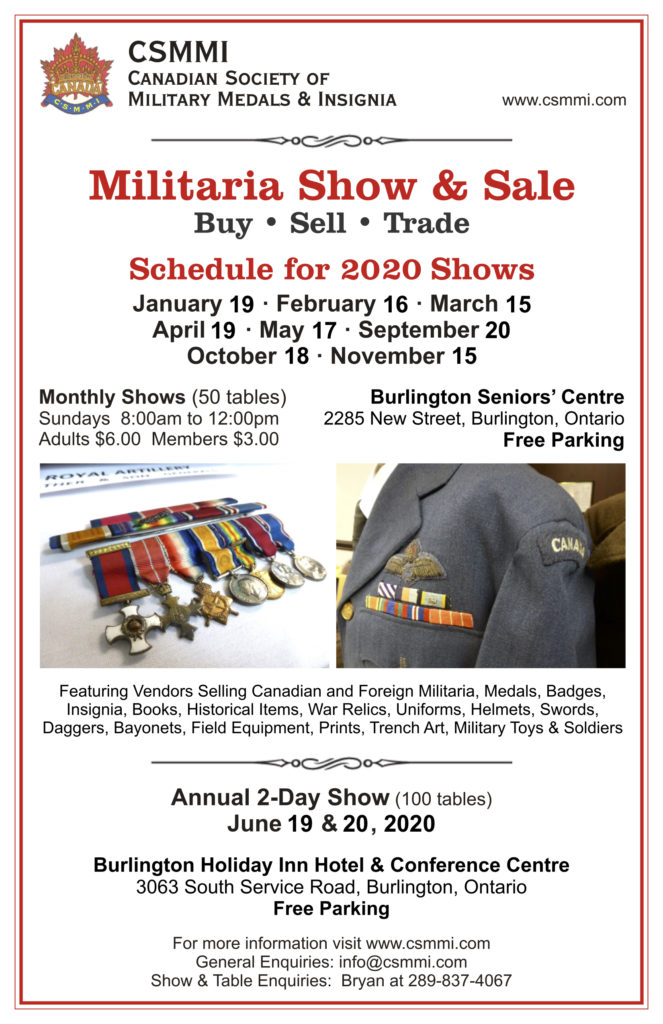 Update: June 29, 2020
See announcements above regarding the impact of the COVID-19 pandemic on holding the monthly shows.
The March 15, April 19, & May 15, 2020 shows have been cancelled.
The June 19 & 20, 2020 Annual Show has been cancelled.  The CSMMI plans to host the next Annual Show in June 2021.
You Are Invited
The CSMMI typically hosts 8 monthly meetings and shows plus an annual 2-day show each year.  These shows are open to the general public, as well as, members.  You are welcome to join us.
Our 2020 dates have been published at the end of the previous year, however, the spread of the COVID-19 virus has caused us to cancel several events to protect the community.  We look forward to seeing you at one of our upcoming shows when it is safe to do so.  Please check back here or on our Facebook site for current information.  Thank you.
2020 CSMMI Schedule
The Sunday April 19 & May 15, 2020 shows are cancelled due to the COVID-19 outbreak.
Please join us at our next show on
Sunday, September 20, 2020
8:00 a.m. to 12:00 p.m.
What's New?
March 31, 2020 -
The April 19, May 15, June 19 & 20, 2020 shows are cancelled.
March 28, 2020 -
The April 19, 2020 show is cancelled.
March 26, 2020 - See events and show pages for updates on cancellations due to COVID-19.
March 12, 2020 -
The March 15, 2020 show is cancelled.
March 11, 2020 - Important announcement posted concerning the COVID-19 outbreak
March 2, 2020 - updated

events

page, added Fabric of War blog.
January 4, 2020 - Uploaded 2020 Calendar of Event.  See events page
---
CSMMI was Founded in 1965
The Canadian Society of Military Medals and Insignia (CSMMI) is a group of people who share an interest in researching, collecting, and preserving the military medals, orders, decorations, insignia, documents, and related military items for future generations.
---
Thank you for visiting our site.
CSMMI