Posted September 28, 2015

MILITARY HISTORY EVENT
Clint Lovell and the Eastview Battlefield Tour students
Present
"DIGGING UP THE TRENCHES"
WITH ONE OF BRITAIN'S MOST POPULAR HISTORIANS
ANDY ROBERTSHAW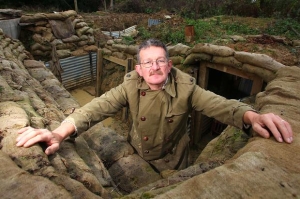 Sunday, October 18, 2015
NOON-2:00pm
ANAF Starlight Room   
7 George Street, Barrie, ON Canada
Hear Andy describe locating and excavating WW1 trenches and the process of locating and identifying human remains and artefacts. Andy will be available to take questions and sign copies of his books.
Among Andy's television documentaries: Digging Up the Trenches, Finding the Fallen, Trench Detectives, Who Do You Thing You Are, Vimy Ridge: Heaven to Hell.
Andy Robertshaw served as Steven Spielberg's historical advisor on the movie "War Horse" in which Andy also starred. Andy has also served as the Education Director at the National Army Museum (London England) and Curator of the Royal Logistics Corps Museum (Surrey England).
Copies of Clint Lovell's

The Boys from Barrie

will also be available. Clint will preview some stories from his upcoming book on local soldiers killed in WW1.
Any proceeds beyond the speaker's fees will be donated to Eastview Secondary School students on their Canadian Battlefields Tour travelling to Ypres, Vimy, Dieppe and Normandy.
SPECIAL THANKS TO THE ANAF FOR PROVIDING THE ROOM FOR THIS EVENT!
Contact Clint Lovell 705 - 220 - 6143